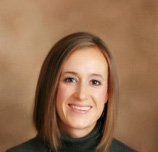 My name is Jennifer and I am a passionate healer! I graduated from The Colorado Institute of Massage Therapy, a highly reknowned medically-based massage school in Colorado Springs. While attending, I received training in Neuromuscular Therapy, Myofascial Release, Muscle Energy Techniques, Hot Stone Massage and Swedish Massage. I am a Licensed Massage Therapist (LMT) in the State of Colorado and hold an International Certification in Neuromuscular Therapy (IANMT).
I have recently begun additional training in Nutritional Response Testing (NRT) which is a very thorough and specific method of testing each individuals unique nutritional needs and barriers in obtaining health. This is often a very effective Therapy in relieving chronic pain as well a vast number of other health issues.
I have always been drawn to the health and wellness industry and am amazed daily by the profound impact positive touch therapy can have on a person. I strongly believe that natural and holistic therapy are an essential component to a person's overall wellness and that everyone should experience massage therapy. My passion for a healthy body extends beyond physical comfort and pours into my nutritional therapy services. I treat each client as a unique individual and pass no judgments. I seek only to improve each clients health and emotional well-being as comprehensively as possible.
I take great pleasure in raising my two boys and spending time adventuring around Colorado with them. I am an avid outdoors person and have lived in Colorado my entire life! I love to mountain bike, hike and run, or, simply submerse my self in nature and enjoy inner peace and spirituality. In my spare time I find happiness and solitude pencil drawing, painting, or settling into a good book.
I love my "job" and look forward to each day!
"Life is a journey, not a destination...Enjoy the Ride!"
castle rock massage, castle rock colorado, therapeutic massage, castle rock therapeutic massage, chiropractic,chiropractor, Derek, Derek Vaughn, Dr. Vaughn, MT, massage therapy, chronic pain, pain management, relaxation, stress management, rotator cuff, tendonitis, low-back pain, sciatica, 80104, carpal tunnel syndrome, thoracic outlet syndrome, TOS, knee pain, wrist pain, arthritis, bursitis, 80108, monument, palmer lake, worker's compensation, medical massage, 80109, effective, neuromuscular therapy, NMT, MT, RMT, 80133, 80132, corporate, dizziness, TMJ, shoulder pain, neck pain, whiplash, auto accident, car accident, NPI, network provider, safe, inexpensive, physical therapy, sports massage